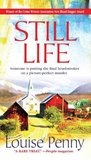 Still Life by Louise Penny
My rating: 3 of 5 stars
Still Life is the first Inspector Gamache mystery, a very popular series among mystery readers. This series is set in Quebec but is written in English, although French expressions are used occasionally and the malaise that separates the francophones from the anglophones is depicted at times.
The strength of this book is the detailed descriptions of Quebec village life and its people, a geographic and sociological location with which most English-language mystery readers have little familiarity. The characters are fully developed and very diverse. The main character, Gamache, is likeable.
The plot line is very much like Agatha Christie's novels. It fits in the Clue game genre, that is, the possible suspects are limited to a small set of people, in this case the inhabitants of the tiny village of Three Pines. You know from early on that it is one of the characters you are reading about, and the author populates this set with enough characters and motive to keep you guessing.
The milieu (see, I took French in high school, too) kept me interested enough to finish the book, and I can honestly say I enjoyed it, but the dénouement left me unsatisfied. The murderer is revealed, of course, but I found the resolution to be all-too-random. It could just as easily have been someone else. It was almost as if the author got to the end and decided it was time to solve the mystery, then drew a name out of a hat and devised an explanation for why and how it was done. A good mystery either contains enough clues to let the astute reader figure out the ending and solve it, or a surprise ending that delights you in its unexpectedness. This did neither. I was perhaps a bit put off a bit by the way Gamache treated his new associate Nichol. She was actually quite realistic and more likely to solve a real case with her approach than Gamache would.
So if you're a fan of ambiance and interesting characters and locales, try a Gamache book. If you prefer a plot-driven mystery with plenty of sleuthing, this may not be the best choice for you.