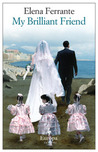 My Brilliant Friend by Elena Ferrante
My rating: 3 of 5 stars
This best-seller depicts life in Naples, Italy in the 1950s. The narrator is a preteen girl, who recounts her experiences growing through pubescence and her school years. Her best friend (usually) is Lila, the eponymous center of attention. Both these girls and most of the other characters are poor and come from the working-class environment of her neighborhood, which is more like a village than part of Napoli. The men are leatherworkers, porters, grocers and the like. The women stay home to keep house and produce babies. One must pass a test even to get into middle school. Going to high school is an expensive privilege afforded very few.
The prose is pleasant if not remarkable. The main charm of this book is the fascinating detail of what life was like at that time and place. If you are someone who finds charm in the idea of traveling to Old World locales that haven't changed much in decades (assuming there are such places), then you will greatly enjoy this book. The characters are colorful and believable. What it lacks for me is a plot. It is more a series of anecdotes and word pictures in the form of a fictional biography. It is the first in a series, so if you like it, you have much to look forward to.