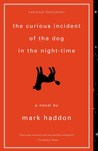 The Curious Incident of the Dog in the Night-Time by Mark Haddon
My rating: 3 of 5 stars
It's difficult to put a star rating on this one. It's written in the first person through the eyes of a severely autistic English boy (Christopher) who is also a math whiz. Or maths as they say over there. As such, the language is stilted and simplistic. The "plot," which Christopher considers to be a mystery, is nothing more than a recounting of his experiences involving a neighbor's dog who was killed and his own broken home.
I have a severely autistic nephew and I'm very sympathetic to the author's attempt at bringing understanding to the public of how autistic children think and feel. However, I can't say I liked the book. I feel almost guilty that I don't like it better, but the language was boring and, frankly, not very realistic in my experience. I understand the author has extensive experience with autistic children, so perhaps he knows some who speak and act like Christopher, but my nephew is less gifted and more normal. He is a great bowler, though. He once bowled a 300 game. I didn't hate the book, but I did find myself skipping over a lot of it, especially the digressions where Christopher explains ordinary things. I understand better now how women feel about mansplaining.