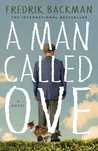 A Man Called Ove by Fredrik Backman
My rating: 3 of 5 stars
Few books can be summarized in two words, but this one is an exception: Lovable curmudgeon. That's Ove and that's the whole book. It's well-written, blending humor and heartbreak. I enjoyed it despite its patent manipulative writing. The characters were all caricatures: Ove who could fix everything and physically overpower or intimidate anyone, his wife who could turn the most incorrigible juvenile delinquent into a Shakespeare scholar, the bureaucrat who was completely insufferable in every way.
I was irritated at times at this overwriting, and that probably dropped it a star in my rating, but I also have a more serious objection. Suicide, or attempted suicide, is not an appropriate subject for a whimsical or humorous tale, in my opinion. My family has been touched tragically in this way on more than one occasion and I can tell you it is the exact opposite of funny. This subject was introduced early in the book and I probably would have stopped reading at that point had the book not been the subject of my next book club meeting. Still, I'm glad I did keep on, because the plot moved on, as I knew it must, with most of the book remaining, and it really did bring some smiles and tugs at the heartstrings toward the end.