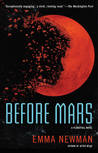 Before Mars by Emma Newman
My rating: 2 of 5 stars
After finishing this book I am rip-roaring mad. This title appeared on a list of sci-fi books recommended by the local library and the description looked promising so I went for it. There was no warning anywhere – the cover, the library email, reviews, introduction, foreword, that you need to have read the first two books in the series. It did have the phrase A Planetfall Novel on the cover, but I thought that only meant it was to be the first in a series. I write novels, too, with a continuing main character, but each is a standalone, so the fact that a series exists, even one started with an earlier book, doesn't mean it's necessary to read the earlier ones. There should have been some warning that this is number 3. So I'm giving you one now: Read the first two before reading this. Not only that, but be prepared to have the story go unfinished because the author clumsily ends by setting up yet another book in the series leaving this story line undone.
The plot was clever enough. Geologist/artist Anna lands on Mars some centuries in a dystopian future and immediately finds things strange. Even though she's never been there before, she finds a note apparently written to herself in her bunk. It was easy enough to figure out how it got there, although Anna is slow on the uptake with that one. Then a whole lot of time is spent on her relationship with her husband, child, parents, and sister – wasted time in my opinion. The author is imaginative, but the anachronisms, political correctness, and an obvious lack of scientific and technical knowledge by the author crept interrupting the flow of the story as minor annoyances. I can only keep it from one star by the fact that it was interesting enough to keep me reading to the end, even though that disappointing ending was the first place it became clear I needed to have read the first two in the series. And the "ending" was anything but an ending. If you're enamored of the first two in the series, and want it to go on, then go ahead and start this one, but there was nothing in this one making me think I would have enjoyed the series from the start.